Big turnout for Lingua Custodia at the FinTech night at Société Générale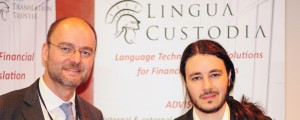 Lingua Custodia received more than 100 visitors during the FinTech Night organised at Société Générale on April 15th.
Many representatives from Société Générale were very keen to know more about how we could personalise a translation software for a specific type of document.
Many other FinTech start ups were also present, which shows how dynamic the French Tech is.