CNET Translation Summit 2016 – Paris – June 16-17, 2016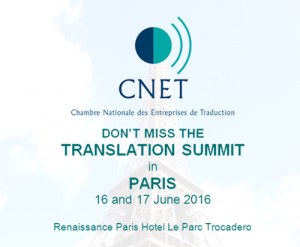 Lingua Custodia will be attending this years' Translation Summit held by CNET.  The Chambre Nationale des Entreprises de Traduction is an association which was formed in 1976 by a few translation company executives. With the aim to promote the image of the profession.
More about Lingua Custodia
Lingua Custodia is the unique Fintech company, founded by asset management professionals. It applies Artificial Intelligence to Financial Translations. We build machine translation engines specifically designed for the financial industry.
The aim is twofold: to achieve a superior translation quality thanks to highly domain-focused deep learning algorithms. And to help financial institutions to communicate rapidly with their clients in multiple languages.