L'AGEFI AMtech day – Paris – October 13, 2016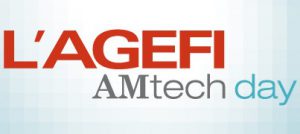 Lingua Custodia is delighted to return as an exhibitor and presenter in L'AGEFI AMtech day in Paris on October 13th. This annual meeting in the universe of asset management consists of round tables, partner events and exhibitors in order to highlight developments in the industry and their operational implications.

Please click here for more information.
About l'AGEFI
L'Agence économique et financière (L'Agefi) est un groupe média spécialisé dans la finance. Créée en 1911, elle publie un quotidien électronique et un hebdomadaire papier français, spécialisés dans la finance.
More about Lingua Custodia
Lingua Custodia is the unique Fintech company, founded by asset management professionals. It applies Artificial Intelligence to Financial Translations. We build machine translation engines specifically designed for the financial industry.
The aim is twofold: achieve a superior translation quality thanks to highly domain-focused deep learning algorithms. And to help financial institutions to communicate rapidly with their clients in multiple languages.