Lingua Custodia attended the international PhD Recruiting fair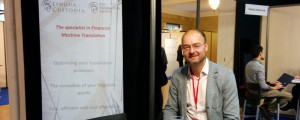 PhD Talent is an association founded by volunteer PhD students and young PhDs. All interested in entrepreneurship and innovation, applied research, and transfer of concept and ideas. PhD Talent organizes every year an international career fair in Paris for international PhD students regardless their research field or academic background. Lingua Custodia had a stand at this event this year. We also had the opportunity to pitch in front of the student community. Many contacts were taken with research laboratories and a visit of Lingua Custodia's offices was subsequently organised for several groups of PhD students. Lingua Custodia is always seeking talents who have a passion for machine learning and team working. Do not hesitate to contact us if you want to know more about our career opportunities.
More about Lingua Custodia
Lingua Custodia is the unique Fintech company, founded by asset management professionals, applying Artificial Intelligence to Financial Translations. We build machine translation engines specifically designed for the financial industry.
The aim is twofold: achieve a superior translation quality thanks to highly domain-focused deep learning algorithms and help financial institutions to communicate rapidly with their clients in multiple languages.