Lingua Custodia develops its first extra-financial criteria lexical comparator
PRESS RELEASE
March 8th, 2021
Lingua Custodia Research & Development Team (the Lab) has developed a lexical comparator prototype. The prototype helps comparing two documents' vocabulary in terms of Economic, Environmental and Social. It is based on the Global Report Initiative's reference glossaries.
The prototype quantifies the occurrences of vocabulary associated with these three axes (Economic, Environment and Social). And sums it up in a graph, for an easier comparison.
This prototype is available online for free on the Lab page, for documents written in English.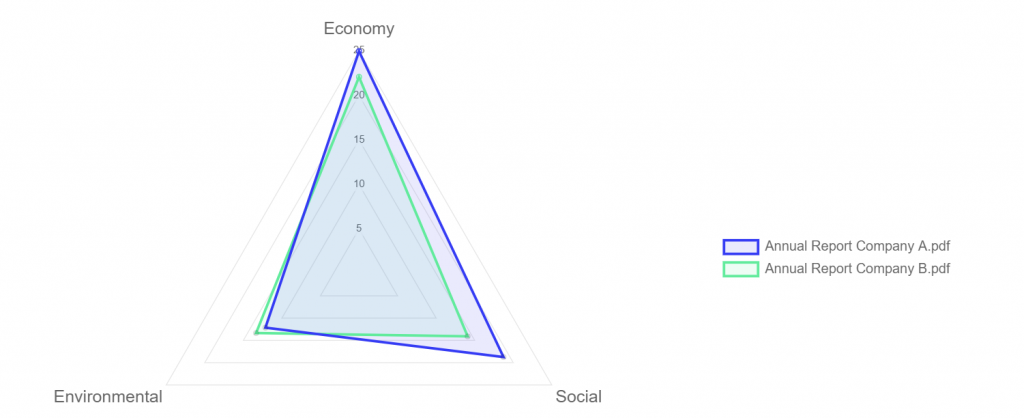 Each team member has a PhD in Machine Learning and is a specialist in Natural Language Processing (NLP).
The Lab has a triple mission: first, to actively contribute to academic and industrial research in these specific fields; second to ensure the products and services offered by Lingua Custodia are state-of-the-art. And finally to develop new value-added applications for our clients.
For years, they have been working closely with LIMSI-CNRS; a well-known French multi-disciplinarity laboratory, hosting researchers from Engineering Sciences and Computer Science. And more recently, for a three-year research program, with Direction Générale de l'Armement (DGA) and l'Agence de l'Innovation de Défense (AID). These two agencies are affiliated with the French Ministry of Defence.

Our objective in 2021 is to develop tools to help financial institutions check the consistency of references to ESG criteria throughout the entire document chain, from regulatory communication to marketing and sales brochures.
About Lingua Custodia
Lingua Custodia is a unique Fintech company, specialised in Machine Learning applied to financial linguistics. With offices in France and Luxembourg, it offers more than a hundred specialised translation engines in nine languages (Chinese, Dutch, English, French, German, Italian, Japanese, Portuguese, and Spanish).
In 2014, the company was identified as innovative by Finance Innovation. It is also a founding member of France Fintech (2015). Since 2018, it is a member of the LHoFT (Luxembourg House of Financial Technology) and of the Village by CA in Luxembourg. In 2019, it joined the Techquartier community in Frankfurt.
In 2020, it became a member of the Réseau des Entreprises de Défense (RED = Defence Enterprise Network) founded by the Ministère des Armées (Ministry of Defense).