Lingua Custodia is selected by the Monetary Authority of Singapore for the 2017 Global FinTech Hackcelerator awards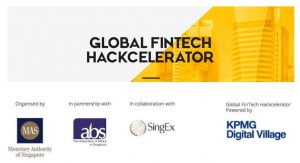 Paris, September 21, 2017 – For the first time, a French Fintech is among the finalists going forward for the yearly Global FinTech Hackcelerator awards. Lingua Custodia managed to stand out amongst the 580 applications submitted worldwide and will represent the French Tech mid-November in Singapore.
This award is run by the Monetary Authority of Singapore (MAS).  The event aims to match lists of problem statements from the financial industry with applications from the Global Fintech community to develop new and innovative solutions to these issues. The Global FinTech Hackcelerator provides a platform for the finalists to work with corporate champions and industry mentors to convert their proposals into market-ready solutions by the time of the FinTech Festival in November.
Lingua Custodia is dedicated to applying machine learning to financial translations and developing customised and smart machine translation engines exclusively for financial documents. Its ambition is to help financial institutions to use their linguistic data more efficiently so that they can spend less time and money in translation and communicate rapidly and effectively with their clients whatever their native language may be. The Lingua Custodia team will follow a 12-week programme, led by KPMG Digital Village, during which they will work and meet with Asian based corporates, investors, partners and regulators.
Olivier Debeugny, the CEO and founder of Lingua Custodia said: "We are delighted to be selected and to represent the French Tech at this global event, this is a major opportunity for Lingua Custodia to strengthen its presence in Asia."
About Lingua Custodia
Lingua Custodia is the only company to apply Machine Learning and Artificial Intelligence specifically to Financial translations and was founded in 2011. The company was recognised as an innovative start up in 2013 by the French Ministry of research, labelled by the Paris based Finance Innovation cluster in 2014, it is a founding member of the France FinTech association created in 2015 and it received the award of the most innovative Fintech of the year 2016 by L'AGEFI.
Link to MAS Press release: http://www.mas.gov.sg/News-and-Publications/Media-Releases/2017/MAS-Announces-Finalists-for-the-Global-FinTech-Hackcelerator-and-FinTech-Awards.aspx