Lingua Custodia ranked 2nd at the Fintech Awards 2018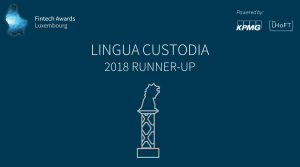 High-level competition at the Fintech Awards 2018 organised by KPMG in Luxembourg. 200 Fintech taking part of the contest, 15 semi-finalists, 8 finalists, a whole day pitching to convince the jury and 3 winners on stage!
Lingua Custodia ranked 2nd with its innovative solutions for automated translation specialised in the financial domain.
Proud of our team and recognition of our expertise in Artificial Intelligence!!
About the Luxembourg Fintech Awards
The Fintech Awards 2018 unearth outstanding Fintech startups from around the world. It introduces them to potential new clients and funding opportunities in Luxembourg.
Fifteen startups have been selected to go through to Competition Day on 20 June. They will be whittled down to seven finalists who will compete to be Fintech Startup of the Year.
There will be a morning round of pitching, from which the jury will select ten finalists to compete in the afternoon session. The winners will be announced in the evening, on the KPMG Plage. Luxembourg Prime Minister Xavier Bettel and Luxembourg Finance Minister Pierre Gramegna will be there.