Olivier Debeugny meets Frédéric Oudéa (CEO of Société Générale)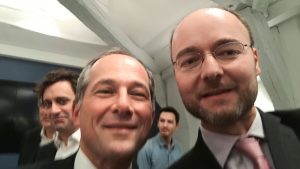 On the 7th of February, Lingua Custodia CEO was invited to attend an event organised by RAISE in Paris. The topic of the evening was "how can traditional banking player adapt to new technologies and engage with Fintech startup in a win win manner ?". RAISE manages both an investment fund and a foundation and aims to foster collaboration between major companies and startups.
Our CEO, Olivier Debeugny, had the opportunity to meet with Frédéric Oudéa, the CEO of Société Générale who explained who he anticipated the evolution of his company in the coming years and how it aimed to engage with agile technology players to keep its competitive advantage.